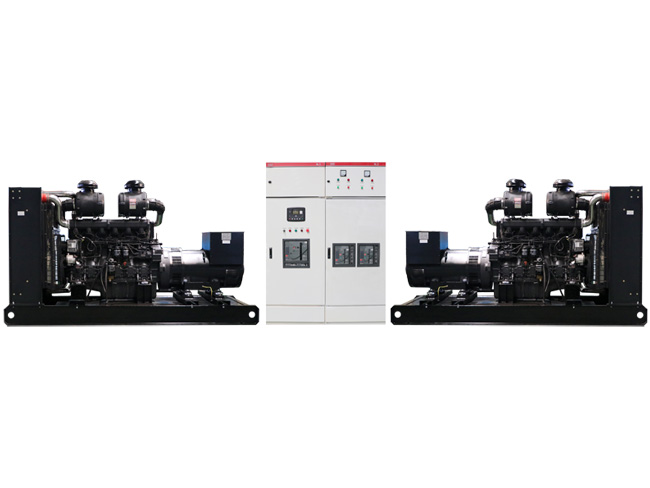 COMLER intelligent automation parallel grid power station
COMLER intelligent automation parallel and grid connected unit, the overall framework adopts GGD type cabinet, and the control system is an intelligent interconnected system: deep integration of human and generator sets; It can be configured with Comler's fifth generation interconnected microcomputer intelligent control system, British deep-sea microcomputer parallel digital high-performance control system, equipped with ATS and high-performance intelligent appliances. When the unit is unattended, it can achieve automatic start and stop of 2-36 units in a unit, automatic parallel operation, and automatic switching of mains power, as well as automatic monitoring of the unit's operating status. Equipped with four protection and multiple protection functions, it can digitally display various data of the unit, check synchronization, line voltage, line current, output power, power factor, frequency reverse power, undervoltage, overcurrent, etc. Oil engine part: display oil pressure, water temperature, oil temperature, speed, etc. The cabinet body is produced using an automated sheet metal production line, with a reasonable design and structure according to power requirements. The cabinet body is treated with anti-corrosion treatment, and can be combined with multiple cabinets. The intelligent control system for parallel operation has two modes: automatic and manual functions. The grid connected control system can supply power to the load together with the city grid, and has remote service function. It has been certified by the National Quality Certification Center ISO 9001:2015.
| | |
| --- | --- |
| ISO 8528:5-2013 | Reciprocating internal combustion alternating current generator sets - Part 5: Generator sets |
| GB 7251-2013 | Low voltage switchgear and control equipment |
| GB/T 20641-2014 | General Requirements for Empty Enclosures of Low Voltage Switchgear and Control Equipment |
| JB/T 4129-1999 | Burr Height of Stamped Parts |
| GB 7251.12-2013 | Low voltage switchgear and control equipment - Part 2: Complete sets of power switchgear and control equipment |
| GB/T 2820 | AC generator sets driven by reciprocating internal combustion engines |
| GB/T 15548-2008 | General conditions for three-phase synchronous alternating current generators driven by reciprocating internal combustion engines |
| GB/T 12786-2006 | General technology Conditions for Automatic Internal Combustion Engine Power Station |
| GB/T 4712-2008 | Classification Requirements for Automatic Diesel Generator Sets |
Product features:
COMLER-Automatic power supply system, the product has strong breaking ability, good dynamic and thermal stability, flexible electrical action, convenient combination, strong serializability and practicality, novel structure, and high protection level. It is widely used as an AC 50HZ (60HZ), rated working voltage 380V (400V), 660V, 10500V, backup or commonly used power supply for power users such as oil, data centers, hotel buildings, industrial and mining enterprises, and power stations. The product has superior technical performance and is an ideal power supply product for users in various industries.
Comler parallel and grid connected unit
Comler parallel and grid connected unit 2023-3-7 This article has been read 135 times