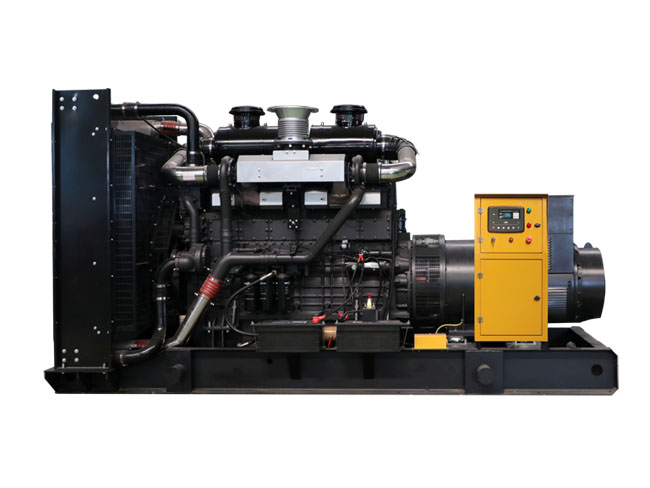 Introduction to Technical Parameters of Perkins Series (8-1800kw):
| | | | | | | | | | | | | |
| --- | --- | --- | --- | --- | --- | --- | --- | --- | --- | --- | --- | --- |
| Model | Unit brand | Oil engine model | Common power of oil engine | Speed Control | Oil engine brand | rated voltage(V) | Rated current(A) | Power factor | frequency(HZ) | speed(r/min) | Overall dimensions(mm) | weight(KG) |
| COMLER10KW | Comler | 403D-15G | 13.5KW | Machine tuning | Perkins | 400/230 | 18 | 0.8 | 50 | 1500 | 1500*750*1050 | 500 |
| COMLER16KW | Comler | 404D-22G | 20.6KW | Machine tuning | Perkins | 400/230 | 28.8 | 0.8 | 50 | 1500 | 1500*750*1120 | 600 |
| COMLER22KW | Comler | 404D-22TG | 27.7KW | Electrical regulation | Perkins | 400/230 | 39.6 | 0.8 | 50 | 1500 | 1500*750*1120 | 660 |
| COMLER30KW | Comler | 1103A-33TG1 | 46.5KW | Machine tuning | Perkins | 400/230 | 54.1 | 0.8 | 50 | 1500 | 1900*840*1230 | 680 |
| COMLER50KW | Comler | 1104D-44TG2 | 64KW | Electrical regulation | Perkins | 400/230 | 90.2 | 0.8 | 50 | 1500 | 1900*840*1250 | 800 |
| COMLER64KW | Comler | 1104D-E44TAG1 | 85.7KW | INJECTION | Perkins | 400/230 | 115.4 | 0.8 | 50 | 1500 | 1900*840*1250 | 900 |
| COMLER80KW | Comler | 1104D-E44TAG2 | 105.1KW | INJECTION | Perkins | 400/230 | 144.3 | 0.8 | 50 | 1500 | 2410*900*1325 | 950 |
| COMLER100KW | Comler | 1106A-70TG1 | 139.9KW | Machine tuning | Perkins | 400/230 | 180.4 | 0.8 | 50 | 1500 | 2410*900*1425 | 1000 |
| COMLER110KW | Comler | 1106D-E70TAG2 | 171.2KW | INJECTION | Perkins | 400/230 | 198.4 | 0.8 | 50 | 1500 | 2410*900*1425 | 1100 |
| COMLER120KW | Comler | 1106D-E70TAG3 | 183.8KW | INJECTION | Perkins | 400/230 | 216.5 | 0.8 | 50 | 1500 | 2410*900*1425 | 1200 |
| COMLER150KW | Comler | 1106D-E70TAG4 | 209.4KW | INJECTION | Perkins | 400/230 | 270.6 | 0.8 | 50 | 1500 | 2850*1000*1669 | 1500 |
| COMLER160KW | Comler | 1206D-E70TTAG1 | 196KW | INJECTION | Perkins | 400/230 | 288.6 | 0.8 | 50 | 1500 | 2850*1000*1669 | 1800 |
| COMLER180KW | Comler | 1206D-E70TTAG2 | 223KW | INJECTION | Perkins | 400/230 | 324.7 | 0.8 | 50 | 1500 | 2850*1050*1670 | 2000 |
| COMLER200KW | Comler | 1206D-E70TTAG3 | 227KW | INJECTION | Perkins | 400/230 | 360.8 | 0.8 | 50 | 1500 | 2850*1080*1650 | 2200 |
| COMLER250KW | Comler | 1706A-E93TAG1 | 295KW | INJECTION | Perkins | 400/230 | 451 | 0.8 | 50 | 1500 | 3150*1050*1670 | 3000 |
| COMLER280KW | Comler | 2206C-E13TAG2 | 305KW | INJECTION | Perkins | 400/230 | 505.1 | 0.8 | 50 | 1500 | 3150*1150*2080 | 3200 |
| COMLER320KW | Comler | 2206D-E13TAG3 | 349KW | INJECTION | Perkins | 400/230 | 577.3 | 0.8 | 50 | 1500 | 3150*1150*2080 | 3500 |
| COMLER400KW | Comler | 2506D-E15TAG2 | 435KW | INJECTION | Perkins | 400/230 | 721.7 | 0.8 | 50 | 1500 | 3706*1450*2100 | 3700 |
| COMLER500KW | Comler | 2806D-E18TAG1 | 522KW | INJECTION | Perkins | 400/230 | 902.1 | 0.8 | 50 | 1500 | 3706*1500*2130 | 4500 |
| COMLER600KW | Comler | 4006-23TAG2A | 682KW | Electrical regulation | Perkins | 400/230 | 1082.5 | 0.8 | 50 | 1500 | 3930*1560*2380 | 6000 |
| COMLER640KW | Comler | 4006-23TAG3A | 705KW | Electrical regulation | Perkins | 400/230 | 1154.7 | 0.8 | 50 | 1500 | 3930*1560*2380 | 6500 |
| COMLER800KW | Comler | 4008TAG2 | 899KW | Electrical regulation | Perkins | 400/230 | 1443.4 | 0.8 | 50 | 1500 | 4500*1800*2300 | 9000 |
| COMLER900KW | Comler | 4008-30TAG3 | 1105KW | Electrical regulation | Perkins | 400/230 | 1623.8 | 0.8 | 50 | 1500 | 4500*1800*2300 | 10000 |
| COMLER1000KW | Comler | 4012-46TWG2A | 1113KW | Electrical regulation | Perkins | 400/230 | 1804.2 | 0.8 | 50 | 1500 | 5000*2200*2700 | 11000 |
| COMLER1200KW | Comler | 4012-46TAG2A | 1331KW | Electrical regulation | Perkins | 400/230 | 2165.1 | 0.8 | 50 | 1500 | 5200*2250*2700 | 13000 |
| COMLER1350KW | Comler | 4012-46TAG3A | 1500KW | Electrical regulation | Perkins | 400/230 | 2435.7 | 0.8 | 50 | 1500 | 5200*2250*2700 | 13500 |
| COMLER1600KW | Comler | 4016TAG2A | 1766KW | Electrical regulation | Perkins | 400/230 | 2886.8 | 0.8 | 50 | 1500 | 6000*2250*3150 | 20000 |
| COMLER1800KW | Comler | 4016-61TRG3 | 1975KW | Electrical regulation | Perkins | 400/230 | 3247.6 | 0.8 | 50 | 1500 | 6000*2250*3150 | 21000 |
Perkins Engine Limited was founded in 1932 by British entrepreneur Frank Perkins in Peterborough, UK. It is a leader in the market for off-road diesel and natural gas engines with power ranging from 4KW to 2000KW. The global service network covers over 180 countries and regions, with 3500 service outlets providing product technical support. All outlets adhere to strict service standards, ensuring that customers in every corner of the world can receive high-quality and demanding services. The strong alliance between Perkins and Comler has become the main supporting power for Comler's high-end units, and has been providing high-quality products and services to high-end customers in the market for many years.
Perkins engine characteristics
Economically efficient power system
Each cylinder head is equipped with four independent valves to help optimize airflow. The digital speed control unit injector ensures ultra-fine fuel atomization, thereby controlling high-speed combustion and further improving efficiency and economic benefits.
It can share components with other models of the 4000 series engine, allowing the main engine factory to greatly reduce inventory.
Reliable ground source power
The entire development and testing process adopts advanced engineering design technology, equipped with an advanced return oil injection cooling system, strictly controlling the piston temperature, and being able to accept a wide range of temperatures to ensure that there is no power reduction.
Clean and efficient power system
The excellent power to weight ratio and compact assembly size make the transportation and installation of the engine easier and easier. The newly designed radiator with anti-corrosion powder coating has fewer joint points and is easier to access, reducing maintenance times. The design of the engine fully considers maintenance needs, greatly simplifying the maintenance process. The engine performance meets all major international standards; Low exhaust emissions.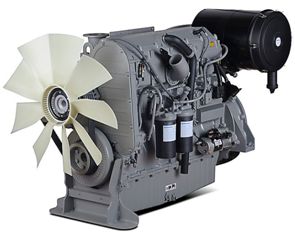 (For reference only, subject to actual product)
Excellent product support
Perkins actively pursues excellent product support services and has been investing resources in the agent network in various business regions for many years to strengthen contact with customers from all over the world and provide more value-added services to our valuable customers.
Throughout the entire service life of Perkins engines, it is guaranteed to obtain original (OE) specification parts and maintenance services. No matter where your machine is operating in the world, Perkins ensures that you can exchange for high quality at a lower cost.
Introduction to Comler Generators:
1. The Comler (1500/1800r/min) series brushless three-phase AC synchronous generator adopts a unique molding hard coil winding process and VPI vacuum pressure impregnation technology to insulate the winding stator and rotor, greatly improving the insulation strength between turns and phases of the generator, ensuring the operational reliability of the generator and further improving its service life.
2. The overall convex rotor has a solid winding and a unique iron core ventilation structure. After special treatment, the winding has good heat dissipation effect and is equipped with a fully damped winding, ensuring stable parallel operation;
3. Steel plate frame, overall firm and reliable, with novel design;
4. High automatic voltage regulation accuracy, with the characteristics of low speed protection and reliable differential adjustment during parallel operation. The overall sealing process and three proofing vibration resistance are good;
5. According to different installation requirements, there are two types of structures: single bearing and double bearing. The single bearing structure adopts the international SAE standard flywheel interface and connecting plate connection, and non-standard connections can also be customized; The transmission end cover of the double bearing structure comes in three forms: flange cover, integrated cover, and ordinary cover.
6. High performance AVR voltage regulator, even under distorted load conditions, has the characteristics of low speed protection and reliable differential adjustment during parallel operation. The overall sealing process, three protections, and anti vibration performance are good;
1) Adaptability to various environments, particularly suitable for harsh environments such as landfills, sewage treatment plants, coalbed methane, and oil fields.
2) The optimized winding design ensures better performance regardless of whether it is at 50Hz or 60Hz. There are various winding forms to adapt to the voltage requirements of different usage scenarios. The standard design of the generator stator winding has good performance under distorted load conditions.
3) High power generation efficiency ensures that the unit can provide more electricity.
4) Widely used: telecommunications and internet services; Parallel operation of generator sets; In the field of renewable energy, such as landfills and sewage treatment plants; The fields of coalbed methane, oil fields, and natural gas.
5) A reliable AVR voltage regulator can ensure a qualified voltage regulation rate even under distorted load conditions, and also improve the anti-interference ability of the generator.
radiator
The diesel engine is equipped with a 52 degree radiator and is cooled by water. It can still operate effectively under full load and high temperatures, making it suitable for operation in low latitude tropical regions.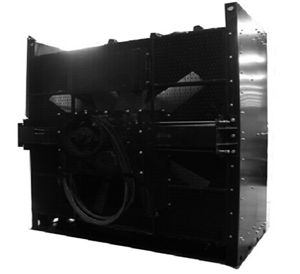 Controller: Configurable Comler's fifth generation interconnected microcomputer intelligent control system, original imported British deep-sea DSE7320
1. Microcomputer operation template, LCD display, with backlight, achieving unit self start and self stop functions.
2. With four protection functions, the city power has overvoltage, undervoltage, and missing item detection functions, while the power generation has overvoltage, undervoltage, overfrequency, and overcurrent detection functions.
3. Support multiple types of engines, display various parameters of the engine, generator, and generator set, and provide shutdown protection when the values are unstable.
4. Upgrade the software version, customers can upgrade the firmware version according to their needs to meet technical requirements.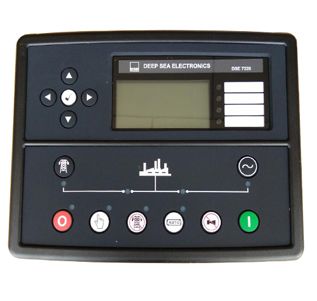 5. Language: The control system supports 13 languages, meeting the needs of customers in different languages.
6. Four sets of working modes and protection parameters can be set.
7. It can preset the operating time (the unit can be started regularly for maintenance and operation) and maintenance cycle function (the engine needs to be replaced with three filters after running for 250 hours)
8. Remote monitoring of the system can be achieved: RS485 transmission can reach 1200 meters. DSE7320+DSE890 enables global network monitoring
9. Reserve automation interfaces, and the microcomputer control system has a system that can achieve automation functions.
base
The base is produced using a sheet metal assembly line, calibrated by a balance instrument, and the entire unit is placed on a steel frame base. It is equipped with a dedicated shock absorption device for the unit, ensuring smooth and reliable operation, and making maintenance more convenient.
Perkins generator set
Perkins generator set 2023-3-7 This article has been read 360 times