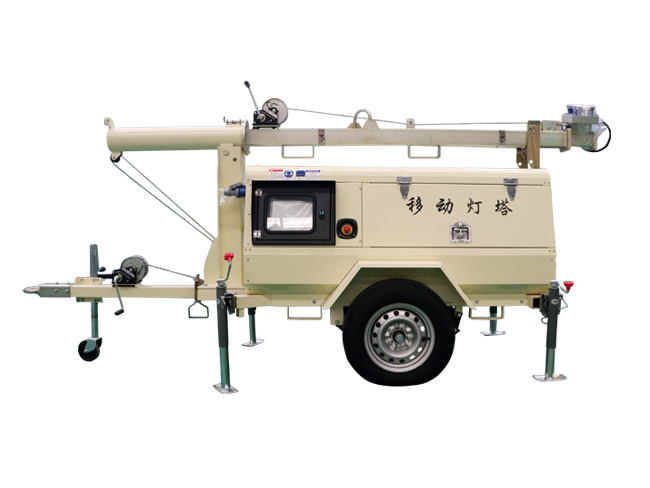 Overview of Comler Mobile Lighting Lighthouse:
Kangmule Emergency High Speed Mobile Lighting Lighthouse is a new generation of mobile lighting lighthouse suitable for various emergency environmental conditions, such as night lighting, emergencies, disaster prevention, emergency response, disaster relief, flood control, drought resistance, earthquake resistance, epidemic prevention, safety production, engineering construction, and other ideal night lighting products research and development and production. Comler focuses on the development of emergency lighting systems and has a mobile emergency lighting research and development center. The manual and fully automatic 5KW-20KW mobile lighting lighthouse is highly favored by domestic and foreign customers, and is a necessary lighting power product for users in various industries.
Technical advantages:
The Comler mobile lighting lighthouse adopts a modular design, consisting of a high-speed mobile chassis, silent box, serpentine pole, unit, high-strength lifting pole, and lighting external quick plug connection system. The technical design advantages in various aspects are as follows:
1) Chassis advantages: High strength mobile chassis, using high-performance torque, shock absorption, and the power car will not tremble and shake when the trailer is moving at high speeds or in the wild; The lighthouse is installed on a high-strength chassis at a speed of 80-100 kilometers per hour and can be quickly moved to the site; All tires are made of vacuum tires to prevent tire blowouts, making them safer and more reliable when moving;
1.1) Traction advantage: Adjustable serpentine traction rod (below 200KW), suitable for various vehicles to drag conveniently and flexibly.
2) Safety braking advantage: The mobile lighthouse braking system adopts disc brakes, which can automatically brake immediately when moving at high speeds or in emergency situations. It can be dragged by any vehicle. When the front car brakes, the rear car collides with the brake in an emergency, which is safe and reliable. The power car can use parking brake when parking, and the parking brake will firmly hold the brake disc to prevent slipping.
3) Box advantages: The trailer room box is made of 2.5 thick galvanized sheet spray plastic, which is rust free for ten years, insulated and rainproof. The unit noise is 65 decibels, and the electric starting environment temperature is -30 ℃ -42 ℃. The generator is equipped with PMG permanent magnet anti-interference function, with a protection level of IP56, suitable for emergency use.
4) Silence advantage: Mobile silent unit, the box is manufactured according to the requirements of the silent unit, and is below 75 decibels.
5) Unit advantages: High performance Comler original unit, national three emission Common rail engine, permanent magnet generator, British deep-sea control system.
6) Fuel supply advantage: The generator set can work continuously for 48 hours when filled with diesel at once; In places with mains power, 220V AC power can also be connected to achieve long-term lighting.
7) Advantages of lifting rods: The lighthouse lifting rods are made of high-strength alloy materials, which can achieve automatic lifting and adjustment. The height is adjustable from 6 meters to 9 meters; The four lamp holders can individually adjust the illumination angle up, down, left, and right, so that the light covers the entire work site.
8) Advantages of electrical system: Equipped with an intelligent control box to control the opening and closing of lights, LED lights can illuminate within a radius of 500 meters, and 220V and 380V external quick plug connectors, as well as various protective devices, Schneider electrical accessories.
9) Operation design: Adopting manual and hydraulic fully automatic lifting and lowering poles, with light switch and pole lifting controlled manually or automatically, easy to operate, safe and reliable; Automatic control for raising speed<30 seconds and lowering speed<18 seconds.
10) Warning advantage: Trailers are equipped with an automatic steering warning signal system and a quick connector on the front vehicle to improve steering safety.
11) Advantages of intelligent interconnection: the deep combination of people and units, the use of mobile APP to manage units, Internet plus+generators, the good combination of Internet technology and generators, to achieve remote management and uninterrupted service of units, so that units can operate more efficiently. Save a lot of manpower, material resources, and financial resources to continuously create value for customers.
12) Unit service advantages: The unit has remote management service function, 24-hour uninterrupted service, and has a service station within 40 kilometers from the use location. The unit has been in use for 1500 hours without any faults and is responsible for maintenance and vulnerable parts.
Comler Mobile Lighting Lighthouse
Comler Mobile Lighting Lighthouse 2023-3-7 This article has been read 176 times